I fired off a few test shots to test the light and then noticed Dylan had a hair tie on his wrist.
Bella was standing behind me. She said "Dylan, you want to take that hair tie off?"
I giggled, "Dylan, why are you wearing a hair tie?"
And Dylan…with that huge smile, shrugs his shoulders matter-of-factly and says with a twinkle in his eye, "I wear it in case Bella needs it."
Now…me, being the mother of that sweet Bella with the wild, big and beautiful head of hair, knows it's nothing for her to break a hair tie. And it usually takes more than one to pull back that voluptuous set of curls. I also know now, Dylan's always watching out for her. It's a sweet feeling.
They are sweet kids.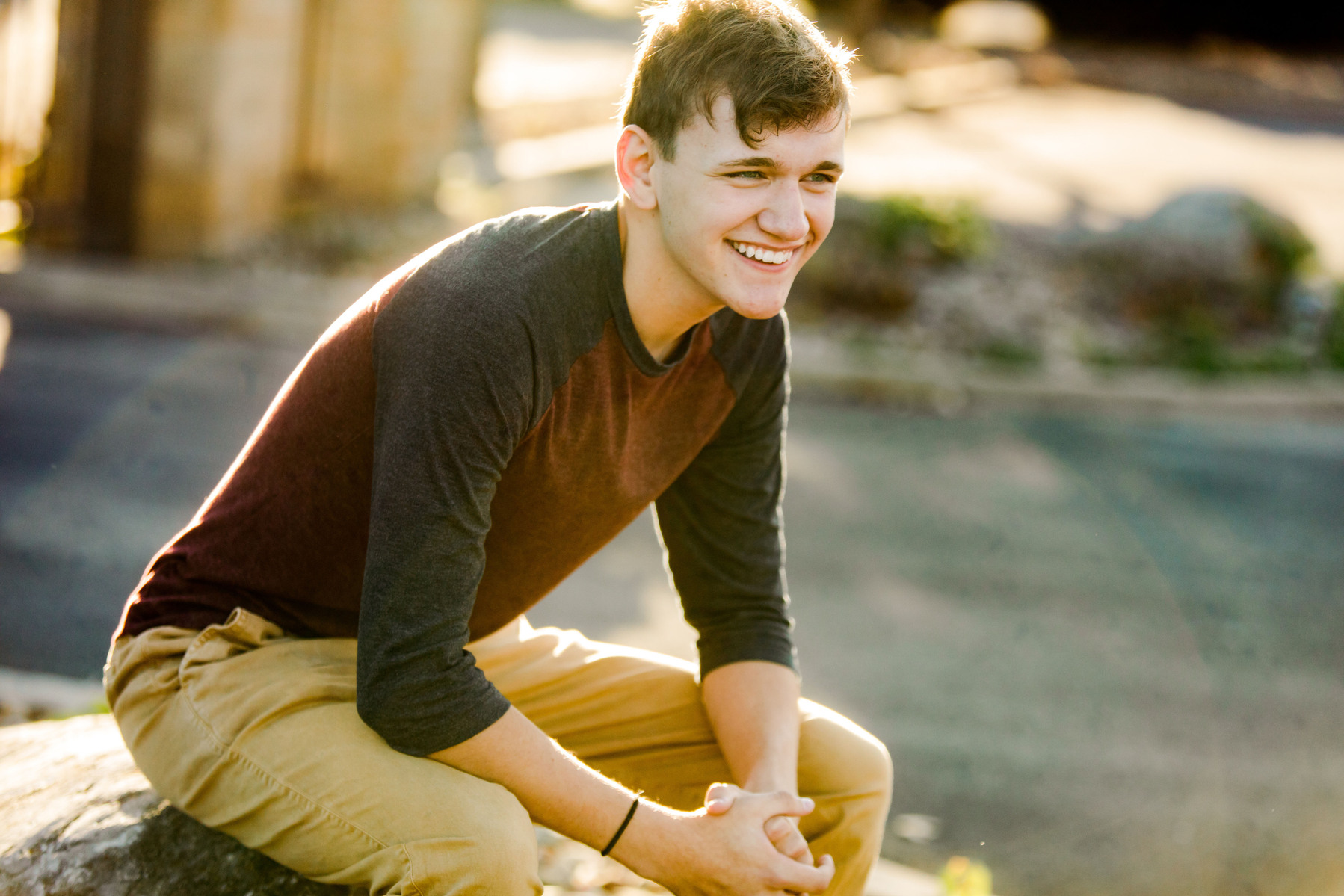 Bella goes over to grab the hair tie and transfers it to her wrist. I grab a quick photo of the two of them together. Dylan smiles as she walks away.
I quickly think back to my senior photos. I brought my then boyfriend to my session. We posed for a few photos together. It was 1999. It wasn't really a "thing" to do back then. In fact my friends made fun of me and thought it was weird. I just did it anyways. Because even back then, long before I was a professional photographer, I thought it was important to document the things that made my senior year what it was. I always was a person who thought ahead of the times. I wore a two piece pant suit dress to my junior prom. That style wouldn't be very popular until about 15 years later. But looking back at those photos, I feel proud. It's who I am. Do something and then wait for the world to catch up. So here we are 2017 and it's quite cool to bring your high school sweetheart along to your senior session. Who knew? I guess I did.
The hair tie is gone. I take the shot I was aiming for…
Even if you don't take your high school sweetheart along to your photo session with you, I think it's a great idea to bring along a friend. The person that makes you laugh and smile. The person you have all the inside jokes with, that's the person who brings out the best in you, that's the person to bring! I got some great shots while Bella did some goofy "I Dream of Jeannie" dance move behind my back. My only regret is that I didn't turn around and snap a picture of her doing it. I continued to capture some traditional yearbook-esque photos in that spot. I won't bore you with them in this post. This post about the fun, artsy photos we took. This post is about letting loose and having fun capturing personality.
We keep moving. I loved capturing them enjoying each other's company as we walked around exploring locations. Dylan graduates this year. Bella has another year to go. I glance back at them…I hope Dylan comes along to Bella's senior session this coming summer. He puts the best smile on her face.
I find myself approaching the way I shoot for Senior Boys different from when I shoot for girls or even weddings. My signature style tends to be light and airy in general. As the mom of 2 girls, I can really hone in on that feminine vibe. And to me, the light and airy feel really speak volumes. Boys on the other hand…I find myself going for the complete opposite. My heart tugs at the deep, rich colors and textured skin. I'm loving this opportunity to photograph something a little different lately. It really helps me grow as a photographer and round out my skills. After shooting a certain way for so many years, it feel great to embrace the hard light and rich colors. I hope you all like it too!